How Transcendental Meditation Works
From the moment we wake up, to the moment we fall asleep, the mind is constantly active. Transcendental Meditation allows the conscious mind to experience quieter levels, and ultimately to transcend, or go beyond even the finest impulse of thought, and experience pure consciousness, the source of thought - the field of infinite creativity and intelligence. The mind is profoundly relaxed, yet wide-awake and by gaining this deep level of rest, both mind and body are refreshed and replenished.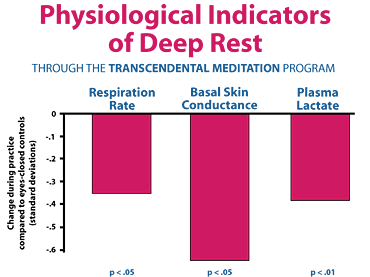 Dillbeck MC,Orme-Johnson DW. Physiological differences between TM and rest.American Psychologist 1987 Sept;42:879-881
Experience Profound Relaxation
Research studies demonstrate that Transcendental Meditation produces a significant increase in basal skin resistance compared to eyes-closed rest, indicating profound relaxation. Deep rest and relaxation are also indicated by greater decreases in respiration rates and plasma lactate levels.
Transcendental Meditation compared to other techniques
The ability to transcend makes Transcendental Meditation fundamentally different from all other meditation techniques.
Other techniques involve either concentration (by controlling the mind or attention) or contemplation (an active thought process of some kind). As a result, other types of meditation keep the mind active which impedes the transcending process.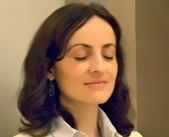 Nenaporna tehnika
Osebna izkušnja ob učenju TM:
"Ne da bi vedela, kaj naj pričakujem, sem pričela drseti v vedno globlje ravni sproščenosti, kot da bi se pogrezala v stol, na katerem sem sedela. Tedaj sem za nekaj časa, morda za nekaj minut izkusila tiho notranje stanje brez misli, zgolj čisto zavedanje in nič drugega; potem sem se ponovno pričela zavedati okolja. Po TM mi je ostal globok občutek lahkotnosti, notranje regeneracije ter sreče."