Kako se naučiti Transcendentalno meditacijo
Tehnike Transcendentalne meditacije se je zelo lahko naučiti in nudi pozitivne učinke skozi vse življenje. Tehniko Transcendentalne meditacije se naučite skozi sedemstopenjski tečaj, ki ga vodi usposobljen učitelj Transcendentalne meditacije. Tečaju sledijo tedenski in nato mesečni sestanki za preverjanje (v povprečju 30-45 minut), ki zagotavljajo pravilno vadbo tehnike. Tečaj vključuje tudi možnost doživljenjske podpore, preverjanja meditacije in znanja za čimbolj učinkovito vadbo.
Prvih sedem korakov
1. Uvodno predavanje certificiranega učitelja Transcendentalne meditacije (60–90 minut)
Kaj se boste naučili:
Zakaj Transcendentalna meditacija tako učinkovito odpravlja stres in anksioznost
Kako Transcendentalna meditacija na naraven način spodbuja dobro počutje
Kaj se zgodi med Transcendentalno meditacijo
Zakaj lahko vsak vadi Transcendentalno meditacijo
Zakaj Transcendentalna meditacija deluje od samega začetka
2. Osebni razgovor
Kratek privaten pogovor z usposobljenim učiteljem tehnike Transcendentalne meditacije po uvodnem predavanju. (10–15 minut)
3. Osebno učenje Transcendentalne meditacije
Kvalificiran učitelj Transcendentalne meditacije vas osebno uvede v Transcendentalno meditacijo (1–2 uri) Opomba: Za ta korak mora biti poravnano plačilo tečaja.
4. Prvi dan preverjanja
Preverjanje pravilnosti vadbe in dodatna navodila (1–2 urno skupinsko srečanje)
5. Drugi dan preverjanja
Razumevanje Transcendentalne meditacije na podlagi osebnih izkušenj. (1–2 urno skupinsko srečanje)
6. Tretji dan preverjanja
Razumevanje višjih stopenj človeškega razvoja. (1–2 urno skupinsko srečanje)
7. Brezplačno spremljanje in podpora
Ta korak zagotavlja, da je vaša vadba Transcendentalne meditacije učinkovita in izboljša vaše zavedanje o pozitivnih učinkih, ki jih prinaša v vaše življenje.
Free lifetime follow-up and support
Once you have completed the TM course, you have the intellectual and experiential knowledge to meditate. Next comes a series of important weekly and monthly personal checking sessions to ensure that you are meditating properly and gaining the benefits. These classes will be scheduled at your convenience over your first several months of practice.
Enrich your understanding and experience and ensure that you are gaining maximum from your practice. These are available to all TM course participants at no cost at any TM Center in Canada:
Conveniently schedule appointments with your TM teacher to verify that your meditation practice is optimal and have any questions answered.
Personal one-on-one "tune-ups" of your TM practice, TM refresher courses.
Exclusive access to resources that provide deeper knowledge to enhance the experience gained from your TM practice.
Subscriptions to an online TM magazine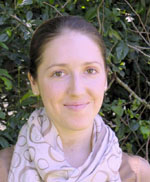 Divya Anna Davy
Učiteljica Transcendentalne meditacije:
"We look forward to hearing from you and helping you to find out more about learning Transcendental Meditation."