Enjoy Work More
With less stress, more energy and creativity, you can enjoy work more and make the time you spend there more rewarding.
When you are performing at your best, work is more enjoyable. You get more done and work relationships are more harmonious.
Meditators report they are at their best at work more often and their performance continues to improve.
Think Clearly
Meditation clears the mind, leading to uncluttered, orderly thinking and a greater ability to organise yourself.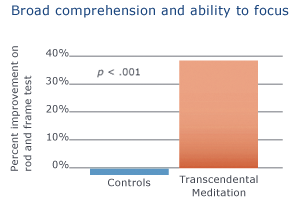 Organisation and Creativity
Find answers faster. When your mind is not full of tension and busy cluttered thoughts, you can be more creative, orgranised and efficient getting the job done faster.
Staff from Blood and Cancer Clinic describe how the TM technique has reduced their stress and increased their productivity.
New Zealander Jason Gunn talks about how his company Olivers Real Foods has benefited after his staff learned TM.
Richard Goings
CEO Tupperware Inc.
"It's a practice that not only burns off stress but gives me fresh eyes to clarify what's really going on and what really matters."