How TM reduces anxiety and depression
Scientific studies have shown that during TM practice, cortisol and other stress indicators fall markedly, blood pressure tends toward normal, the whole physiology shifts toward more settled and balanced functioning. This reversal of the stress response in the body results in a clearer, calmer, more harmonious state of mind and emotions outside of meditation.
Forty years of scientific research on the TM technique has identified a wide range of positive effects from regular, twice-daily practice. This research shows the TM technique impacting all aspects of mental and physical health—facilitating healing while promoting holistic growth and transformation.
Dvakrat učinkovitejša od drugih tehnik
Journal of Clinical Psychology 1989 45:957-974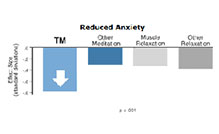 Kar Transcendentalno meditacijo loči od drugih tehnik je njen celostni učinek. Primerjamo jo lahko z zalivanjem korenin rastline v primerjavi z ukvarjanjem z listi. Znanstvene raziskave so pokazale, da globoka sprostitev med Transcendentalno meditacijo umiri um in telo, kar zmanjša živčni odziv na stres. Posledično se zmanjšata anksioznost in depresija, kar vam dovoli, da nadzirate in premagate mnoge simptome, ki se lahko pojavijo, vključno z napadi panike, socialno anksioznostjo in fobijami.Analiza vseh 146 objavlenih raziskav o sprostitvi in anksioznosti (graf na levi) je pokazala, da je Transcendentalna meditacija dvakrat bolj učinkovita pri zmanjševanju anskioznosti od drugih tehnik, vključno s sprostitvenim odzivom, koncentracijsko metodo meditacije, sistematičnim sproščanjem mišic in mišično biološko povratno zanko
Zanimivo je, da dlje kot so se preučevani posamezniki ukvarjali z vadbo Transcendentalne meditacije, manj je bilo anksioznosti.
Transcendentalna meditacija prekine začarani krog
Spopadanje z anksioznostjo in depresijo je dolgoročen izziv in se lahko spremeni v začarani krog, v katerem dejstvo, da bolezni ne moremo obvladati, vodi do še večje anksioznosti in depresije.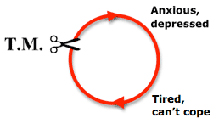 Vedno upoštevajte nasvet zdravnika
Če imate občutek, da anksioznost in depresija resno škodujeta vašemu življenju, se posvetujte s svojim zdravnikom. Transcendentalna meditacija dopolnjuje vse zdravstvene pristope k obvladovanju anksioznosti in depresije, vendar pa vadba Transcendentalne meditacije ni nadomestilo za zdravniški nasvet....
Vedno sledite navodilom vašega zdravnika
Nikoli ne zmanjšajte odmerka zdravila, razen če vam je to naročil vaš zdravnik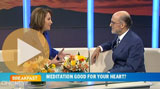 TVNZ intervju z zdravnikom ob zajtrku
"Raziskave so pokazale, da ima ta tehnika... pozitiven učinek na povezavo med možgani in srcem"