Razvijanje ustvarjalnih možganov
Niste se rodili z dokončno ustvarjenimi možgani. Prek naravnih procesov odraščanja in izkušanjami se vaši možgani v vsakem trenutku ustvarjajo na novo, da lahko podpirajo vse vaše mišljenje, odločanje in obnašanje. Stalno nastajanje vaših možganov je dinamičen.
Izkušnja mirne budnosti med Transcendentalno meditacijo ustvarja optimalne pogoje za razvoj vašega polnega potenciala ter največje možne inteligence in kreativnosti povsem brez napora, obenem pa varuje možgane pred škodljivimi učinki stresa.
Potopite se navznoter
"Transcendentalna meditacija je preprost, nenaporen način, da se potopite vase, izkusite ocean čiste zavesti, čiste kreativnosti, čistega védenja. Je edinstvena izkušnja, hkrati pa tudi poznana – vaš lasten Jaz."
David Lynch, režiser in predsednik Fundacije Davida Lyncha za izobrazbo na podlage zavesti in mir na svetu (David Lynch Foundation for Consciousness-Based Education and World Peace)
Večja ustvarjalnost
Posamezniki, ki so se naučili Transcendentalne meditacije, so v primerjavi s kontrolno skupino pokazali povečano ustvarjalnost, izmerjeno z večjo stopnjo slikovne originalnosti po petih mesecih vadbe. Večjo ustvarjalnost so pokazali tudi glede na kriterije slikovne fleksibilnosti in besednega izražanja (ni na diagramu.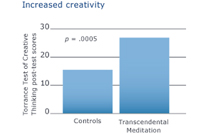 The Journal of Creative Behaviour
1979 13:169–180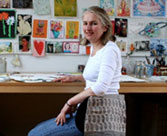 Claire Winteringham
Poklicna umetnica
"Menim, da je slikanje z vodenimi barvami zelo čista oblika umetnosti. Za to potrebuješ prostor v glavi, jasen um in tišino. Transcendentalna meditacija mi resnično zelo pomaga pri vsem tem in omogoča mojemu slikanju, da teče bolj ustvarjalno in spontano."