Transcendentalna meditacija naravno zmanjšuje stres
Negativni učinki stresa dokazano zmanjšujejo učinkovitost, vnašajo napetosti v odnose in povzročajo telesna obolenja. Na kratko, stres nam preprečuje, da bi uživali v življenju, in v našem umu in telesu se nabira skozi vse življenje. To pomeni, da noč dobrega spanca ali daljše počitnice niso dovolj, da bi si lahko povsem opomogli.
Znanstvene raziskave so pokazale, da Transcendentalna meditacija nudi globlji in bolj koherenten počitek kot druge sprostitve – ustvarja stanje mirne budnosti, ki odplakne stres ter osveži um in telo. Telesni odziv med Transcendentalno meditacijo je ravno nasproten telesnemu odzivu na stres, kar pomaga odpravljati negativne učinke stresa.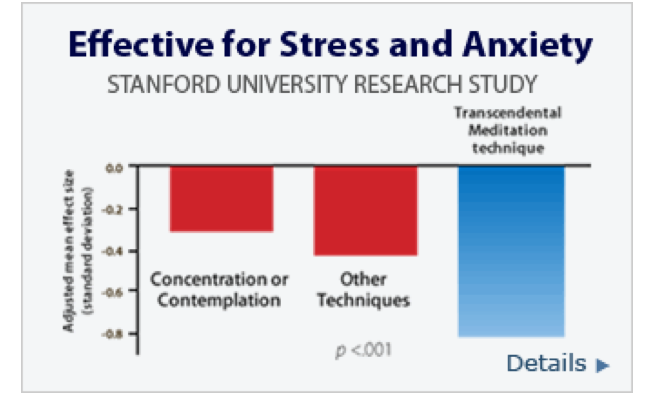 Raziskava Univerze v Standfordu
Transcendentalna meditacija se je pokazala za dvakrat bolj uspešno od drugih tehnik pri zmanjševanju stresa in anksioznosti.
Metaanaliza 146 neodvisnih raziskav je bila objavljena v znanstveni reviji Journal of Clinical Psychology (Št. 45 (1989): str. 957–974).

Bolj miren odziv na stres
Ker je vsak posameznik drugačen, se uravnotežujoči učinki Transcendentalne meditacije pri različnih ljudeh kažejo na različne načine, na primer: manj glavobolov, boljši spanec, več energije, izboljšani medosebni odnosi. Obstaja pa zelo pomemben pozitiven učinek, ki se pokaže pri skoraj vseh, in sicer: po učenju Transcendentalne meditacije se ljudje bolje spoprijemajo s stresnimi situacijami.
Raziščite dobrobiti
Znanstvene raziskave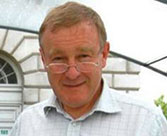 Dr. William Weir
Svetovalec za infekcijske bolezni
"Psihološki stres ima številne negativne učinke na telo, vključno z neposrednim in škodljivim vplivom na imunski sistem. Vadba Transcendentalne meditacije odstranjuje strese, zato TM močno priporočam zaradi njenih dobrih učinkov na kakovost življenja."