"Bil sem skeptičen glede meditacije... ampak prijatelji so se pogovarjali o koristih meditacije za zdravje. Zato sem se odločil, da grem na tečaj in se naučim meditirati. Od takrat nisem izpustil niti ene meditacije. To je povzročilo resno ogromno razliko v mojem življenju. "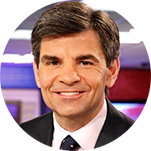 George Stephanopoulos
Ena od poglavitnih ugotovitev raziskav kaže,
da TM izboljšuje zdravje srca.
Gotovo že veste, da je zdravje vašega srca bistvenega pomena za aktivno, izpolnjujoče življenje; pa vendar ali ste seznanjeni z raziskavami o učinku Transcendentalne meditaciji na srce? Ali veste, da ta nenaporna in prijetna tehnika lahko varuje vaše srce?
Naravno zniža
visok krvni tlak
Združenje ameriških kardiologov American Heart Association je v svoji reviji Hypertesion poročalo, da je Transcendentalna meditacija edina meditacijska tehnika, ki je pokazala, da znižuje visok krvni tlak.
Ugotovitve združenja American Heart Association -
Znižanje visokega krvnega tlaka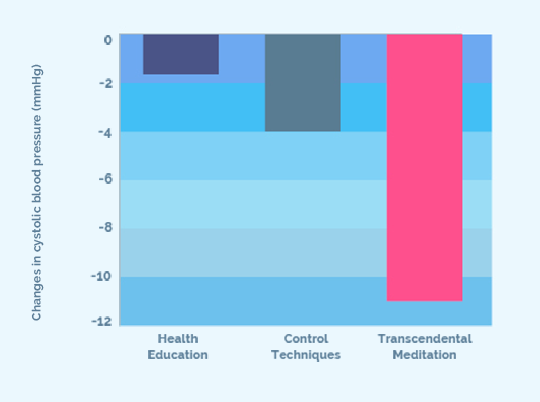 Vir: 'Hypertesion'
48% zmanjšanje pogostnosti srčnega napada in kapi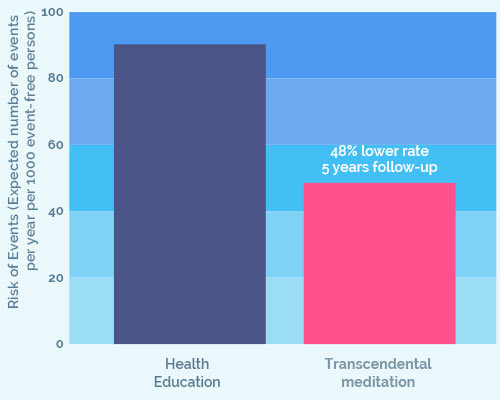 Vir: 'Circulation Cardiovascular Quality and Outcomes'
Večje zmanjšanje nevarnosti za srčni napad in kap
Petletna študija opravljena na bolnikih s koronarno srčno boleznijo poroča o 48% zmanjšanju pogostnosti srčnega napada, kapi in smrti med tistimi, ki vadijo Transcendentalno meditacijo v primerjavi z drugimi v kontrolnimi skupini.
Znižanje visokega holesterola
Ta študija v reviji 'Journal of Human Stress' je ugotovila, da se pri ljudeh z visokim holesterolom, ki vadijo TM tehniko, pomembno zmanjša raven holesterola v primerjavi s kontrolno skupino.
Transcendentalna meditacija znižuje holesterol
Vir: 'Journal of Clinical Psychology', 1989; 45:957-974
Zmanjšana zadebelitev sten karotidne arterije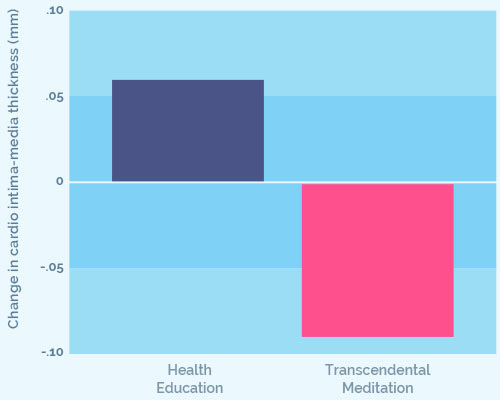 Source: Stroke
This study found that those who learned TM showed reduced thickening of the carotid artery wall. In contrast, the control group who received health education on diet and exercise had continued thickening of this artery wall.
Študije o vplivu TM na zdravje
Objavljeno od leta 2000 do danes
AndersonJW, Liu C, Kryscio RJ. Blood pressure response to Transcendental Meditation: a meta-analysis. American Journal of Hypertension 2008 21 (3):310-316
Barnes VA, Kapuku GK, Treiber FA. Impact of Transcendental Meditation on left ventricular mass in African American adolescents. Evidence-Based Complementary and Alternative Medicine 2012:923153, 1-6
Barnes VA, Orme-Johnson DW. Clinical and pre-clinical applications of the Transcendental Meditation program in the prevention and treatment of essential hypertension and cardiovascular disease in youth and adults. Current Hypertension Reviews 2006 2(3):207-21
Barnes VA, Orme-Johnson DW. El impacto de la reduccion del estres en el hypertension esencial y las enfermedades cardiovasculares. Revista Internacional De Ciencias Del Deporte (International Journal of Sports Science) 2008 4(12):1-30
Barnes VA, Orme-Johnson DW. Prevention and treatment of cardiovascular disease in adolescents and adults through the Transcendental Meditation® Program: a research review update. Current Hypertension Reviews 2012 8(3):227-242
Barnes VA, Schneider RH, Alexander CN, Rainforth M, Staggers F, Salerno, J. Impact of Transcendental Meditation on mortality in older African Americans with hypertension—eight-year follow-up. Journal of Social Behavior and Personality 2005 17(1):201-216
Barnes VA, Treiber FA, Davis H. Impact of Transcendental Meditation on cardiovascular function at rest and during acute stress in adolescents with high normal blood pressure.Journal of Psychosomatic Research 2001 51(4):597-605
Barnes VA, Treiber FA, Johnson MH. Impact of stress reduction on ambulatory blood pressure in African American adolescents. American Journal of Hypertension 2004 17(4):366-369
Bovee JC. Effects of Transcendental Meditation on blood pressure: a literature review.Modern Psychological Studies 2006 11:1-11
Brook RD, Appel LJ, Rubenfre M, Ogedegbe G, Bisognano JD, Elliott WJ, Fuchs F, Hughes JW, Lackland DT, Stafleno BA, Townsend RR, Rajagopalan S. Beyond medications and diet: alternative approaches to lowering blood pressure. A scientifc statement from the American Heart Association. Hypertension 2013 61(6):1360-1383
Castillo-Richmond A, Schneider RH, Alexander CN, Cook R, Myers H, Nidich S, Haney C, Rainforth M, Salerno J. Effects of stress reduction on carotid atherosclerosis in hypertensive African Americans. Stroke 2000 31(3):568-573
Cunningham CH, Brown S, Kaski JC. The effects of Transcendental Meditation on symptoms and electrocardiographic changes in patients with cardiac syndrome X: a pilot study.American Journal of Cardiology 2000 85(5):653-655
Fields JZ, Walton KW, Schneider RH, Nidich SI, Pomerantz R, Suchdev P, Castillo-Richmond A, Payne K, Clark ET, Rainforth M. Effect of a multimodality natural medicine program on carotid atherosclerosis in older subjects: a pilot trial of Maharishi Vedic Medicine. American Journal of Cardiology 2002 89(8):952-958
Fields JZ, Walton KW, Schneider RH, Nidich SI, Pomerantz R, Suchdev P, Castillo-Richmond A, Payne K, Clark ET, Rainforth M. Effect of a multimodality natural medicine program on carotid atherosclerosis in older subjects: a pilot trial of Maharishi Vedic Medicine. American Journal of Cardiology 2002 89(8):952-958
Haaga DAF, Grosswald S, Gaylord-King C, Rainforth M, Tanner M, Travis F, Nidich S, Schneider RH. Effects of the Transcendental Meditation program on substance use among university students. Cardiology Research and Practice 2011 – published online at Cardiol Res Pract. 2011:537101
Jayadevappa R, Johnson JC, Bloom BS, Nidich S, Desai S, Chhatre S, Razian D, Schneider RH. Effectiveness of Transcendental Meditation on functional capacity and quality of life of African Americans with congestive heart failure: a randomized control study. Ethnicity and Disease 2007 17:72-77
King MS, Carr T, D'Cruz C. Transcendental meditation, hypertension and heart disease.Australian Family Physician 2002 31:164-168
Kondwani KA, Lollis CM. Is there a role for stress management in reducing hypertension in African Americans? Ethnicity and Disease 2001 11:788-79
Nidich S, Rainforth M, Haaga D, Hagelin J, Salerno J, Travis F, Tanner M, Gaylord- King C, Grosswald S, Schneider R. A randomized controlled trial on effects of the Transcendental Meditation program on blood pressure, psychological distress, and coping in young adults.American Journal of Hypertension 2009 22(12):1326-1331
Orme-Johnson DW, Barnes VA, Hankey AM, Chalmers RA. Reply to critics of research on Transcendental Meditation in the prevention and control of hypertension. Journal of Hypertension 2005 23(5):1107-1108
Orme-Johnson DW, Barnes VA, Schneider RH. Transcendental Meditation for primary and secondary prevention of coronary heart disease. In: R Allan, J Fisher (eds), Heart & Mind: the Practice of Cardiac Psychology, 2nd edition (pp.365-379). Washington DC: American Psychological Association, 2011
Paul-Labrador M, Polk D, Dwyer JH, Velasquez I, Nidich SI, Rainforth M, Schneider RH, Bairey Merz CN. Effects of a randomized controlled trial of Transcendental Meditation on components of the metabolic syndrome in subjects with coronary heart disease. Archives of Internal Medicine 2006 166(11):1218-1224
Rainforth MV, Schneider RH, Nidich SI, Gaylord-King C, Salerno JW, Anderson JW. Stress reduction programs in patients with elevated blood pressure: a systematic review and meta-analysis. Current Hypertension Reports 2007 9(6):520-5
Schneider RH. Response to AHA scientifc statement on alternative methods and BP: evidence for upgrading the ratings for Transcendental Meditation. Hypertension 2013 62(6):e42
Schneider RH, Alexander CN, Salerno J, Rainforth M, Nidich S. Stress reduction in the prevention and treatment of cardiovascular disease in high risk underserved populations: a review of controlled research on the Transcendental Meditation program. Journal of Social Behavior and Personality 2005 17(1):159-180
Schneider RH, Alexander CN, Staggers F, Orme-Johnson D, Rainforth M, Salerno J, Sheppard W, Castillo-Richmond A, Barnes VA, Nidich SI. A randomized controlled trial of stress reduction in African Americans treated for hypertension for over one year. American Journal of Hypertension 2005 18(1):88-98
Schneider RH, Alexander CN, Staggers F, Rainforth M, Salerno JW, Hartz A, Arndt S, Barnes VA, Nidich SI. Long-term effects of stress reduction on mortality in persons >/=55 years of age with systemic hypertension. American Journal of Cardiology 2005 95(9):1060-1064
Schneider RH, Castillo-Richmond A, Alexander CN, Myers H, Kaushik V, Aranguri C, Norris K, Haney C, Rainforth M, Calderon R, Nidich S. Behavioral treatment of hypertensive heart disease in African Americans: rationale and design of a randomized controlled trial.Behavioral Medicine 2001 27(2):83-95
Schneider RH, Grim CE, Rainforth MV, Kotchen T, Nidich SI, Gaylord-King C, Salerno JW, Kotchen JM, Alexander CN. Stress reduction in the secondary prevention of cardiovascular disease: randomized, controlled trial of Transcendental Meditation and health education in blacks. Circulation: Cardiovascular Quality and Outcomes 2012 5(6):750-758
Schneider RH, Nidich SI, Salerno JW. The Transcendental Meditation program: reducing the risk of heart disease and mortality and improving quality of life in African Americans.Ethnicity and Disease 2001 11:159-160
Schneider RH, Walton KG, Salerno JW, Nidich SI. Cardiovascular disease prevention and health promotion with the Transcendental Meditation program and Maharishi Consciousness-Based Health Care. Ethnicity & Disease 2006 16(3) Supplement 4:15-26
Walton KG, Schneider RH, Nidich SI. Review of controlled research on the Transcendental Meditation program and cardiovascular disease—risk factors, morbidity and mortality.Cardiology in Review 2004 12(5):262-266
Walton KG, Schneider RH, Nidich SI, Salerno JW, Nordstrom CK, Merz CN. Psychosocial stress and cardiovascular disease. Part 2: effectiveness of the Transcendental Meditation program in treatment and prevention. Behavioral Medicine 2002 28(3):106-123
Walton KG, Schneider RH, Salerno JW, Nidich SI. Psychosocial stress and cardiovascular disease. Part 3: clinical and policy implications of research on the Transcendental Meditation program. Behavioral Medicine 2005 30(4):173-183